Aromatherapy is one of the oldest medicines on Earth…These vital life essences can benefit not only our physical wellness but can aid us on our path to spiritual enlightenment.  Aromatherapy, along with homeopathic herbal medicines and Bach Flower Remedies may contribute to reversing disease at its cause rather than simply masking a group of symptoms.  These Aromatic Medicines of the future willl be based on vibrational frequency and its effect on the cellular structure.  In choosing a fragrance, we need to allow our intuition to lead the way.  A pleasant-smelling aroma isn't always what our body needs!
Essential oils have a tradition of medicinal use.  Each century had its own recipes and prescriptions.  For example, the Egyptians embalmed their dead with compounds that contained resins and many essences. Cleopatra may have been beautiful but the real power lay in the oil of opium that burned constantly in her presence.  The Greeks and Romans practiced Aromatherapy, on a daily basis, and saw the mind-body connection.  To effect change in one produced transformaton on the physical level.  The Romans added essential oils to their bath rituals to uplift the emotions and heal physical ailments.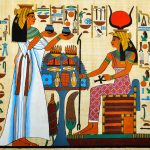 I began my Aromatherapy journey in the 1990's as a vibrational tool in the ancient Vedic meditation disciplines.  These Sacred blends were formulated with sacred Chi principles that resonated with very high frequencies of light and sacred geometry. Before meditation, apply a small amount of essential oil to your hand, rub your hands briskly together and inhale. Essential oils are absorbed directly into the bloodstream and have a profound effect on your DNA. Essential oils are very strong substances and need to be diluted with the exception of Lavender Oil.  Some popular carrier oils to use are:  Jojoba Oil (more like a wax), Almond Oil, Grapeseed Oil and Evening Primrose Oil.  Coconut and Argan oils are new favorities for people interested in pursuing their path of Aromatherapy.  The rule of thumb is to use 7-8 drops of essential oil to 1- 15 ml. bottle of carrier oil.
Aromatherapy is a very powerful tool because our sense of smell is directly connected to the nervous system and the brain.  When we inhale a fragrance, a message is sent to the Limbic portion of the brain.  This part of the brain is associated with memory, emotions and moods.  This validates why we as human beings can have a positive effect on our physical body and heal ourselves at a deep, cellular level. Essential oils resonate at ulta-high frequencies and can help us achieve optimum health.  
Whether you want to relax with Lavender or Ylang-Ylang Oils, treat sinus conditions with Eucalyptus or Peppermint and enhance your meditation techniques with Frankincense or Sandlewood, practicing Aromatherapy will transform your life.  I never leave home without an essential oil.  Look for my new online shop in November with Aromatherapy, Crystals and Meditation products.
Namaste,
Sue
Share this...