Taste of Italy:  An Extraordinary Adventure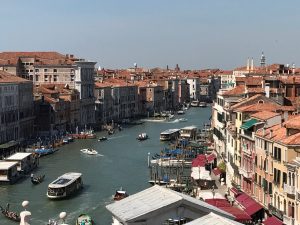 This extraordinary adventure began with an idea on a Vision Board. For many years, I embraced the idea of traveling to exotic lands where pictures of places captured the essence of what a foreign country symbolized.  Paintings and pictures of Italy crossed my path on numerous occasions.  During meditation, I pictured myself traveling to this exotic land sailing down "The Grand Canal." This June a life-long dream of mine came to fruition.  Dreams really do come true!!!
I felt very blessed to make this trip with my mother, sister and niece.  It was very special having three generations of our family together and I will treasure these memories forever.
Italy is the most picturesque and beautiful country I have ever visited.  The food is delicious.  Once you taste their pasta, you will realize what you've been missing. The amazing sights of boats and gondolas in the Grand Canal in Venice, Italy were a timeless experience that I will never forget.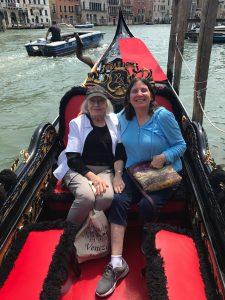 As I gazed out my hotel window in the morning, I found the activity on the Grand Canal exhilarating.  The hotel was across from a large market called "The Rialto Market" where local people and visitors could buy a large selection of exotic fruits and vegetables.  The market also sold a large variety of spices and seafood.  The mussels popped out at me (looked very scrumptious) and wish I could take them home and cook up a storm.  For 2 Euros you could take a fast boat (a little bumpy) that served as a shuttle from one side of the canal to the "Rialto Market."  It was worth the ride.  It saved an enormous amount of time taking a long walk to the "Rialto Bridge" and numerous steps to get across to the other side.
I loved eating outside in the cafes and watching the boats go by.  Sipping cold drinks in the hot sun quenched our thirst and I did my best trying to translate the Italian menus.  The streets were crowded but there was such high energy.  Everyone loved being in Italy and the atmosphere was uplifting.  INTERESTING IDEAS:  Didn't realize (in Italy), it is not the done thing to use Parmesan Cheese on Seafood and Pasta but Pepper is Ok.  Fascinating.  I found it an eye-opener learning how things are done in a different culture.
I loved the idea of no cars and taking water taxis or walking to many destinations.  The walking is definitely a plus for people wishing to stay in shape and a great acitivy for exercising.  If you intend on visiting Italy, expect a lot of walking.  There is so much to see and walking is the best way.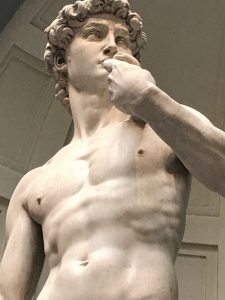 Every destination had its unique art and incredible experiences and Florence was no exception.  It is a city filled with excitement and offers a very lively nightlife. There are so many museums that hold beautiful art and architecture.  Michelangelo works are displayed and immediately you recognize why he is so famous.  His works of Art shine with creative genius. The statue of David was quite a sight to behold and I appreciated the tiniest detail given to the art work and architecture of the city.
One of my favorite experiences was visiting the "Santa Maria Novella Farmacia."  This is an Aromatherapy/Perfume shop that is connected to the church.  It is similar to walking in a museum where every room is dedicated to specific products.  They had rooms filled with exotic perfumes, cremes and powders.  Another dedicated to Aromatherapy soaps and incense, etc.  What a sensory experience!  It reminded me why I love Aromatherapy so much.
Sorrento (the village by the sea)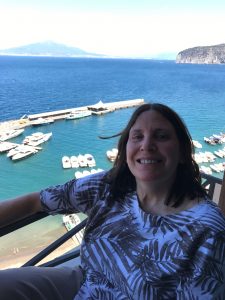 Sorrento offers a different flavor.  The hotel that my family and I stayed in was high above the seaside on a cliff overlooking the harbor.  We could see the volcanic island of Vesuvius on the horizon.  It actually reminded me of the mystical and magical land of Avalon and the British Isles.  This was the best place to meditate in nature.
Visiting the beautiful island of Capri and The Blue Grotto was was an amazing journey into a magical place.  We traveled into a cavern that reflects an amazing blue color.  For interested parties, you are rowed into the Blue Grotto in a small rowboat and had to bend very low because the opening of the cave is so low.  This would be a great place to meditate (in a boat of course).  It was like taking a doorway through time.  Was a must do on our list!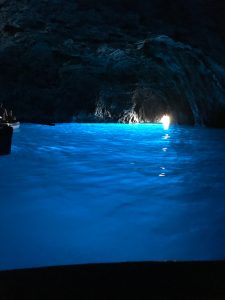 Our Final Destination (The Ancient City of Rome)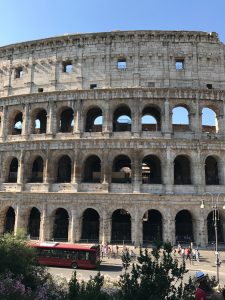 Rome is filled with so much history and has many stories to tell about the Romans and their masterpieces.  I felt like I traveled back in time to an innovative age but had its perils as well.  I enjoyed the city very much and all it had to offer.  The Coliseum was a spectacular sight to behold.  So much occurred here and I could feel the Ancient Roman energy.
The Vatican City and the Sistine Chapel were very sacred sites to behold.  The artwork displayed is beautifully designed and true masterpieces of holy art.
The artists and designers used divine creativity in creating these monumental structures. As shown below, these pictures depict the angelic energy of the Vatican Museum.  The Sistine Chapel is a holy place of worship and silence is golden (No
pictures).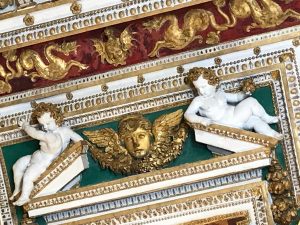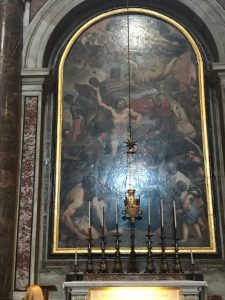 This once in a lifetime trip is engraved in my heart with love and joyful bliss.  I have cherished memories in my heart and the people I shared it with.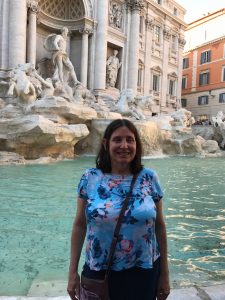 Share this...