Have you worked with Amethyst before?   Amethysts are very popular in raw form, polished and can be found in amazing jewelry pieces.  Crystals are magnificent light beings that are abundant on the Earth.  Gem and minerals have been sought since the beginning of time.  People love to wear crystal jewelry, decorate their houses with crystal clusters (to charge their environment with positive loving energy) and balance their chakras with crystals.  They also magnify healing sessions such as Reiki and Massage Therapy and can bring your energy to a higher vibration.
Amethyst is a very powerful purple stone that is a part of the Quartz Kingdom.  It has been highly regarded through the ages for its extraordinary beauty and legendary healing powers.  The Earth is showered with these wonderful, uplifting crystals.
Amethyst comes from a Greek word, "amethystos," meaning not intoxicated.  Amethyst comes from a myth which surround this precious stone.  The myth revolves around Bacchus, the Roman God of wine.  Very interesting story…
Long ago, a beautiful maiden was on her way to worship at the Temple of Diana.  However, she had the misfortune of crossing paths with the God of Wine, Bacchus.  Angered since he'd just suffered an insult, he vowed to take revenge on the next person he met.  He spied the maiden and unleashed his two guardian tigers upon her.  As the beasts bounded towards the maiden the Goddess, Diana intervened.  To spare her such a terrible fate, she turned the maiden into a pure, clear stone.
Immediately, remorse seized Bacchus.  To atone for his actions, he poured his wine over the stone, staining the crystal a deep, violet hue.  And so the maiden Amethyst lent her name to the crystal.  Interesting since Amethyst is very beneficial for releasing addictions and transforming emotional patterns.
In modern times, Amethyst is a very spiritual stone and has amazing abilities in opening up your clairvoyant sight and is a great meditation crystal to enhance your meditation state.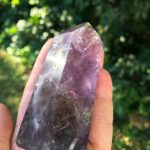 It is associated with St. Germain's Transmuting Violet Flame which can be used for spiritual purification.  You can purge your karmic baggage, the energy that you've carried through many lifetimes and protect yourself from psychic attacks.  Working with Amethyst crystals can cleanse your entire Auric Field and surround you in a protective cocoon of purple light.  By placing Amethyst under your pillow, you can induce a peaceful night of sleep.
Amethyst works very well in healing layouts and grids and is the perfect choice when beginning to work with the crystal and Mineral Kingdom.
Visit the Products page, to see all crystals available for sale.  Click on:  The Lavender Lady Products
Enjoy the energy crystals have to share with us!
Namaste,
Sue
Share this...